DEAR FRIENDS
You, with your love-s, are warmly invited to the
LORIN RENEWAL BAPTISM CELEBRATION
with artistic blessing acts
SA 28th of October, 5pm

to the infinity,
on Board of Lorin, Spoorweghaven, Levie Vorstkade 83, Rotterdam
17.00 A
RTIST
I
N
T
HE
W
ORLD
: Opening HUBSA #5; 18.00 H
EIN
K
OOKT-bites
- DJ D
ZUM-sounds;
N
ELLEKE
S
CHARROO/OLIVIER SCHEFFER:
fakefurryfunkyfashion;19.00 B
APTISM
with Adrian Sonneveld - free prosecco!; 20.00 i play the piano and sing for you; 21.30 X
ICORIBAS
: piano and electronics; 23.00 R
OBIN
B
ECKER
: voice electronics performance V/N OI C/S E; and always are we ready for surprises * * * * *
We do just free collections - then how happy we are when you bring some cash, papermoney preferred of course :) also some ads for the bar are very welcomed :)
Very excited and grateful into all directions i can reach out with this announcement!
First and last of all what Lorin had and did this year, this important moment came true through the final act by A
RTIST
I
N
T
HE
W
ORLD
painting the HUBSA #5 in Lorins Sailor Cabins in the front, what brought this cultural cargo boat finally to a liveable place from the stern to the bow in 3 fully independent and fully equipped apartments. The last one in the bow has even an own entry and own terrace, perfect for longer stays as artist residencies or nautical experienced people, and of course Lorin is always welcoming all kind of interesting nice people.
LORIN goes into her/his 15 years, i good moment to give a great celebrating gathering act.
Here some first informations, everything more you will get with us on board!
Thanks so much for visiting.
The website

d r i v i n g s o u n d s & a r t s

is very rarely feeded, actually almost only the page "projekte aktuell".
you find more infos under
or writing an email, watch out, no copy paste, just without spaces:
a n m a r i . w i l i @ g m a i l . c o m
Dieser Sonntag 25.6.18.30
PENELOPE, ANGEFRESSEN Das Konzert des FMD, mit LE DONNE IDEALI AND GUEST im kHaus, Kasernenhof 8, 4058 Basel
DEAR FRIENDS! Meine lieben Interessierten am aktuellen Geschehen in Musik und Diversität!
REMIND REMIND für kommenden Sonntag!
Wir vom Vorstand sind während des ganzen Jahres mit verschiedenen Aspekten eines engagierten Vereins beschäftigt. Unser mittlerweile jährliches Konzert als jährlichen Schlusspunkt rufen wir hier nochmals in Erinnerung.
Es gibt wunderbare Texte in der Programmzeitung und in der SMZ, also erwähne ich hier nur 2 wichtige Besetzungsänderungen:
Lindsay Buffington springt an der Harfe im Werk von Deborah Henson'Conant für Julia Wacker ein.
Malgorzata Walentynowicz springt mit Keyboard und Stimme im Werk von Brigitta Muntendorf für mich ein.
Mehr und noch mehr am Konzert selbst. Ich werde selbstverständlich da sein. Auch meine audio visuelle Intervention wird stattfinden.
Nun also, in grosser Vorfreude auf zahlreiches Wiedersehen oder neues Kennenlernen
Ganz herzliche Grüsse
Anmari Anmari Mëtsa Yabi Wili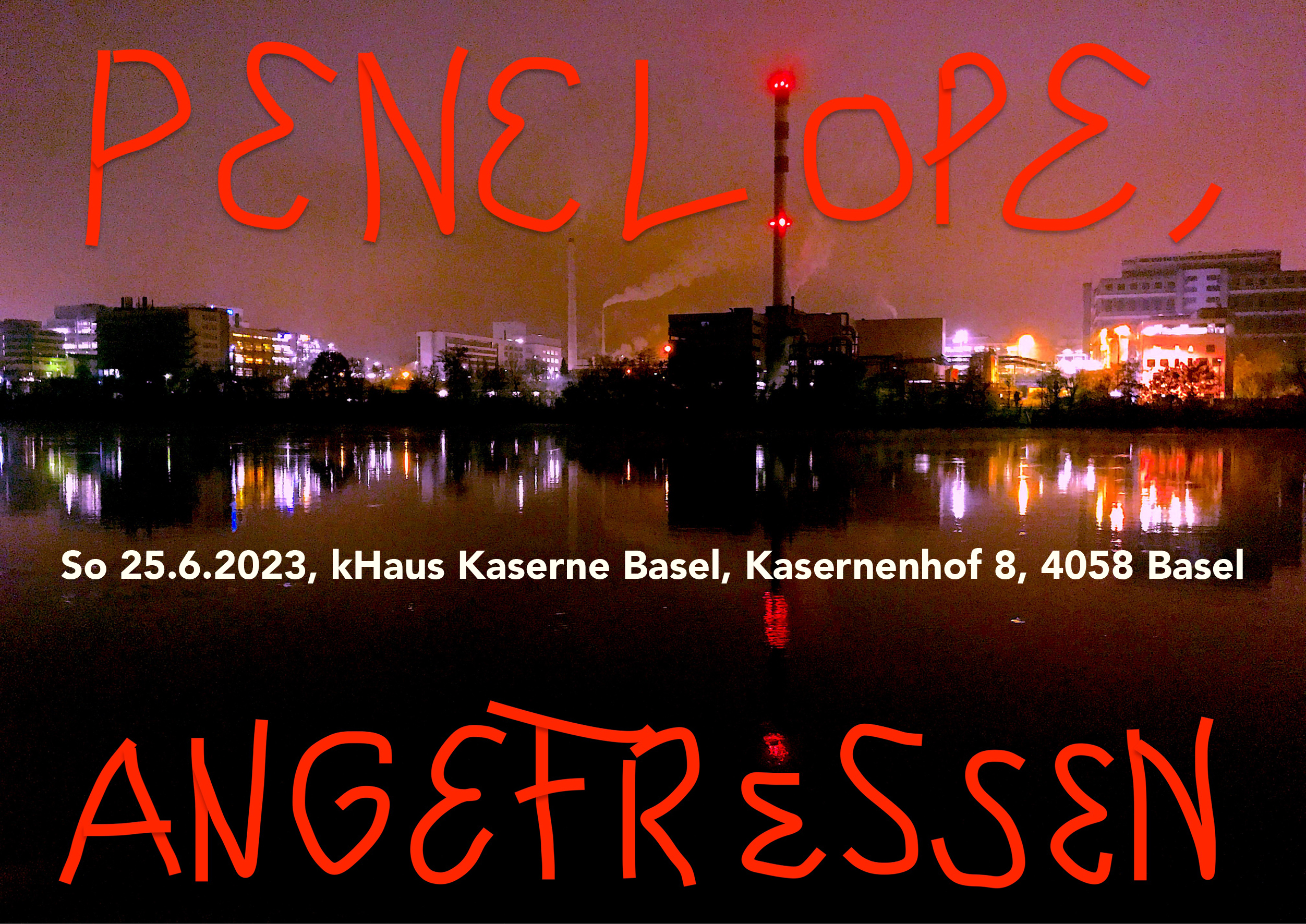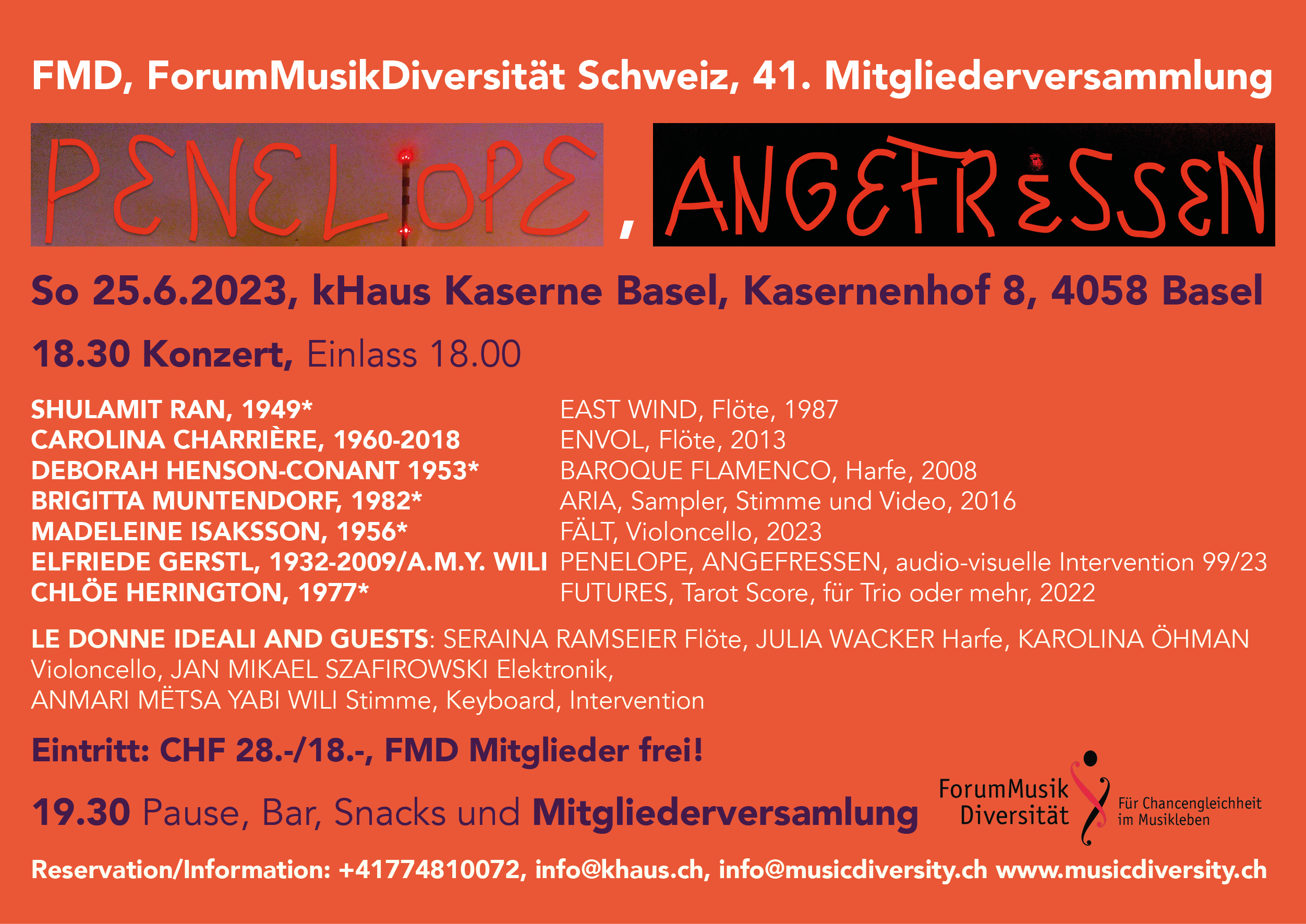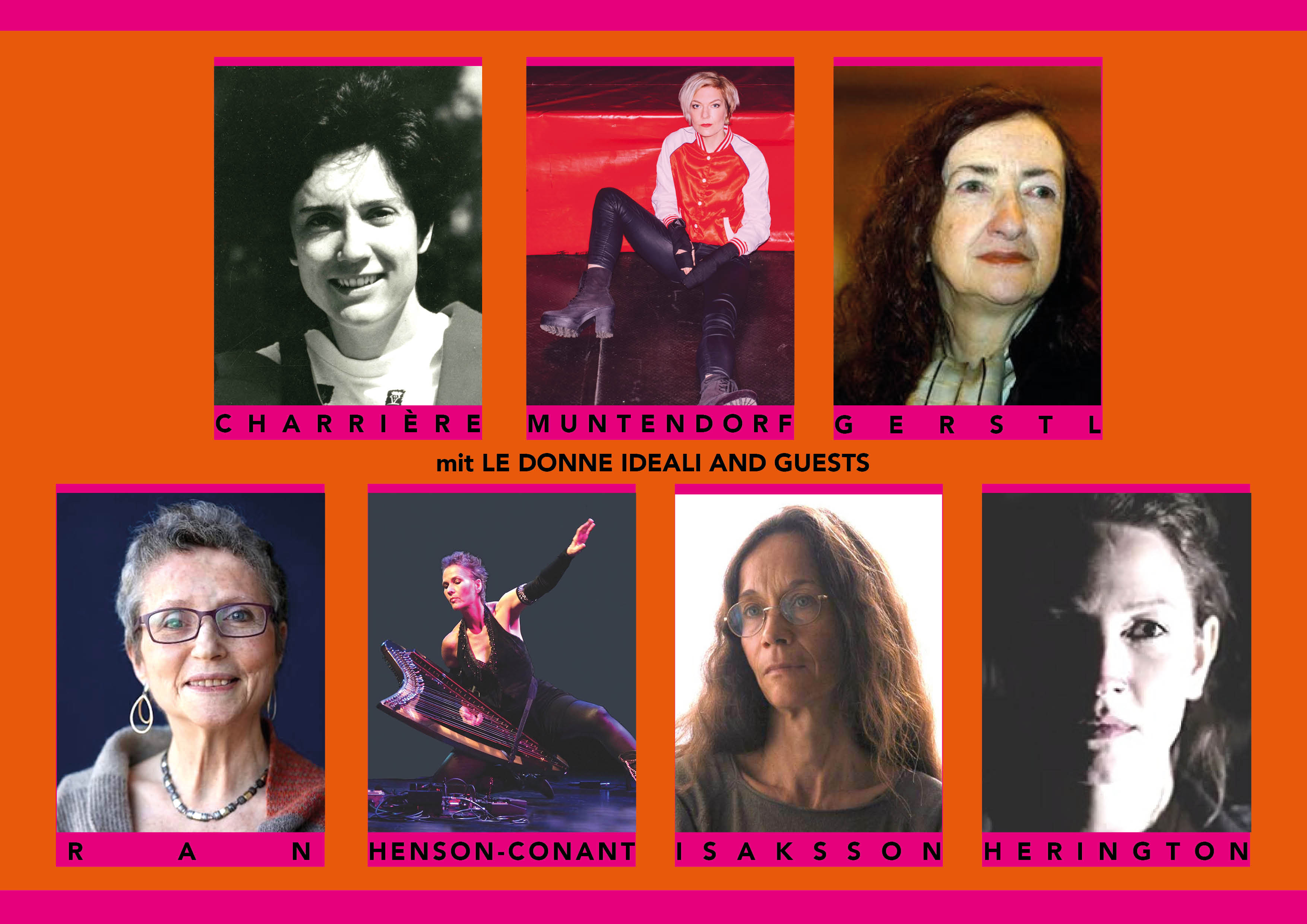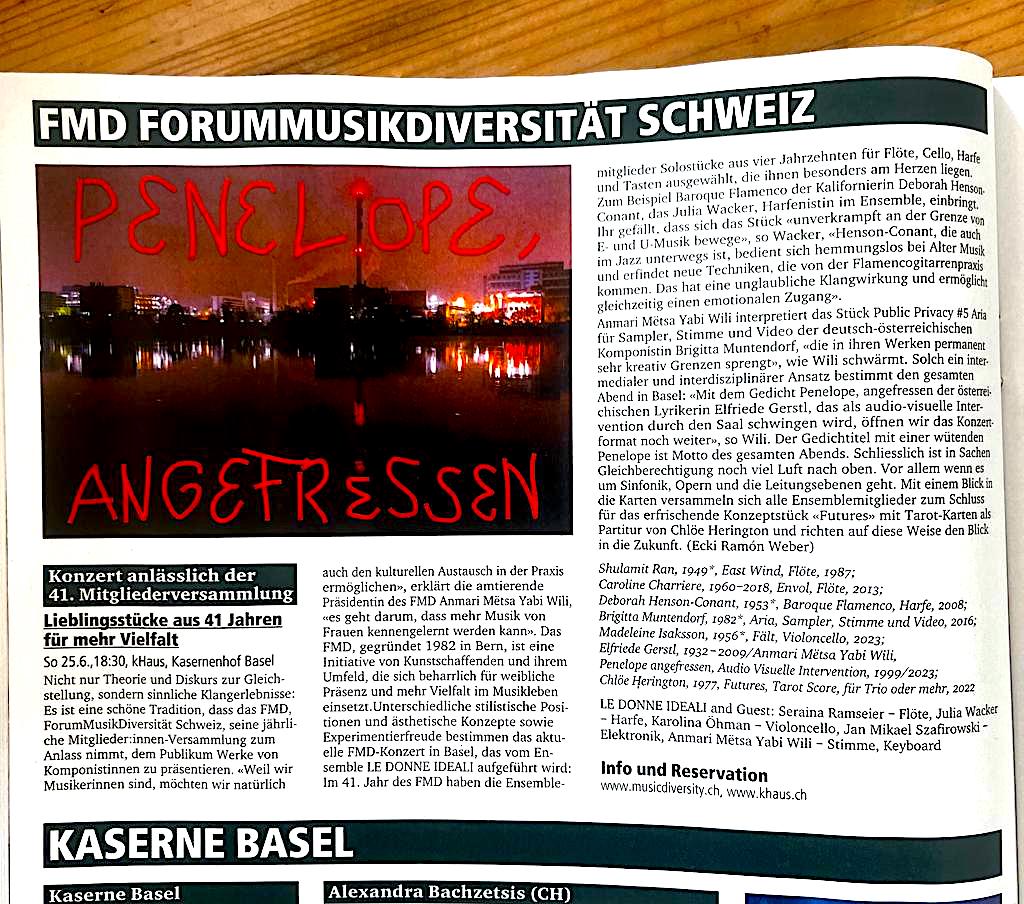 FOR MORE INFORMATIONS PLEASE COME ON OUR WEBS